Our top tricks for introducing your dog to Karnivor raw food
The new year screams new year's resolutions! Switching to Karnvior raw food is a great resolution to make on your dog's behalf. You'll improve their overall health, and much more:
Better weight and muscle mass management
Optimized digestion
Smaller, less odorous stools
A silkier coat
Healthier teeth and gums
And more!
Without further ado, let's have a look at our tried and true tips for a smooth transition to Karnivor raw food.
tip 1: Follow Karnivor's recommended transition steps
In order for your transition to Karnivor to be a success, we recommend that you slowly integrate this new food into your dog's diet.
Skip 1 or 2 meals to allow your dog's digestive system to rid itself of its previous diet (skip this step for puppies).
Add a ½ cup of hot water to the medallions during the introductory week. This step helps ease the transition to raw food.
Done! The transition is complete. You can stop adding hot water to the medallions. However, you can keep adding the hot water if your dog likes it.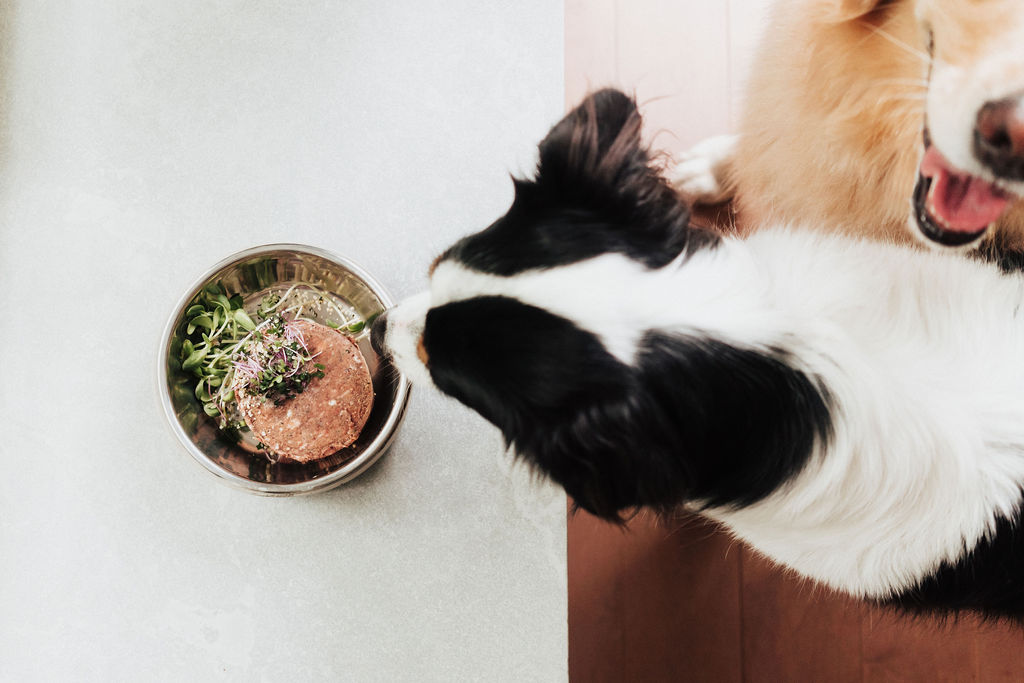 Tip 2: Check your dog's suggested daily portion size
The suggested daily portion size will vary depending on several factors: your dog's age, weight, and the size of medallions chosen.
ADULT DOG
For an adult dog (a dog over one year old), you can consult the suggested serving size located directly under each product sheet on our website. The serving size will vary depending on your dog's weight.
Note: if your dog is overweight, offer them the suggested portion of their ideal weight, or reduce the portion size slightly.
If you want to introduce raw food to a puppy or senior dog, the suggested serving size is a little different than it is for an adult dog.
pup
Since puppies need more energy to grow, their daily portion should be doubled until they reach their full adult size. For example, if your puppy currently weighs 10 lbs and their adult weight will be 50 lbs, follow these guidelines:
2 x ½ medallions per day, for a pup weighing 10 lbs
2 x 1 medallion per day, for a pup weighing 20 lbs
2 x 2 medallions per day, for a pup weighing 40 lbs
1 x 2 ½ medallions per day when the pup reaches adulthood (50 lbs)
We recommend our Beef recipe for young puppies. It's high in protein and ensures healthy weight gain.
senior dog
For an older dog, we recommend reducing the suggested daily portion from 1 to ½ medallion. Because they're older and often less active, older dogs require less energy than adult dogs. Reducing the suggested serving size helps prevent your doggo from gaining weight.
For older dogs, we suggest our lowest calorie recipes: Chicken, Horsemeat, and Horsemeat & Rabbit.
tip 3: Make sure to thaw the medallions in the fridge the night before your meal
While some dogs enjoy frozen food, many will prefer cool/room temperature food. After all, our dogs love the smell of the meals we cook for ourselves. By serving the food at room temperature or adding a little hot water, the flavours and aromas of the medallions will be stronger, making them more interesting to your dog.
That's why you should take out the medallions and put them in the refrigerator the day before in order to offer your dog's meal at an ideal temperature.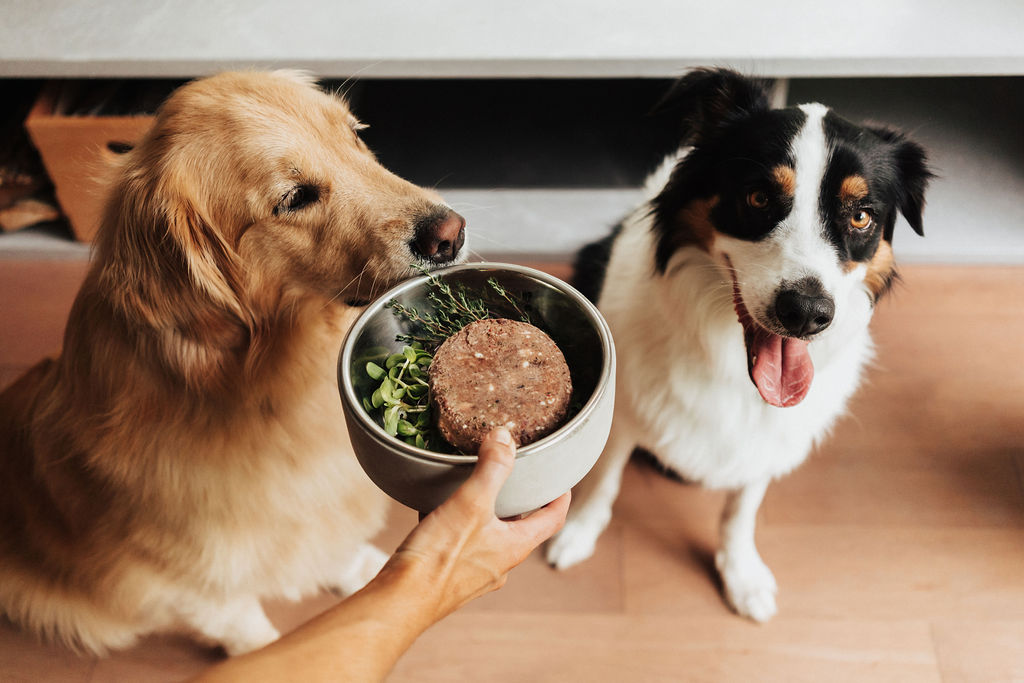 Enjoy these great tips to make the transition to Karnivor raw food easier. If you have questions or concerns, please do not hesitate to contact our canine support team. We'd love to answer your questions.
Karnivor Canine Support
email: [email protected]
phone: 1 888-855-9622